Okay a couple of weeks ago Stamp With Us had some online classes. Unfortunately I didn't manage to get many of them completed however the PDFs are downloaded and saved somewhere safe for me to refer to when I get the chance. There were some amazing projects and cards and I love taking part as everyone is so friendly. The chats get a bit wild! Here are a couple of things I did mange to get done!
The first picture shows everything.
First up, a card which was a sketch challenge for which I won a prize! Yay!
Supplies - all Stampin' Up!
Paper - Holiday Treasures
Card - Whisper White, Ruby Red, Old Olive and Chocolate Chip
Ink - Chocolate Chip, Ruby Red and Old Olive
The second is a box designed by the fabulously talented (and demonstrator of the year)
Monica
. A great idea for a gift box. I don't think I can bear to part with mine though!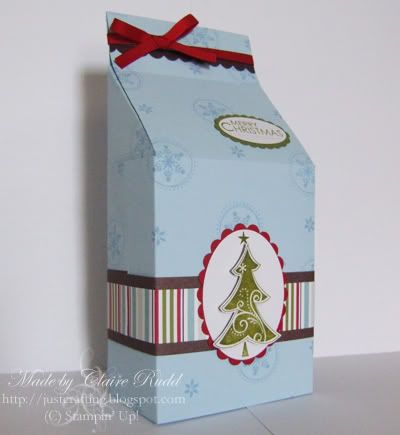 Supplies - all Stampin' Up!
Card - Whisper White, Real Red and Bashful Blue
Ink - Bashful Blud and Old Olive
This was another great box (although from the picture you can't really tell it is a box, but it is, promise!) and a bag of reindeer poo designed by
Zoe
. The box is actually made to fit a box of Maltesers. Now how cool is that? I would love to receive a box of Maltesers is a handmade box like this, wouldn't you? However it could be used as a standard gift box for anything you like!
Supplies - all Stampin' Up!
Card - Real Red, Chocolate Chip, Old Olive and Whisper White
Stamps - A Jolly Holly Christmas
Card - Real Red, Old Olive and Whisper White
Other - Cello Bag and Choc Raisins!
The only item that is in the top photo that I've not detailed is the wreath. It was for another challenge which was to make a picture from punches. Now I'm limited on SU! punches so I did a search on the internet and saw this. It uses the scallop oval punch and was great for using up all my Old Olive scraps.

I can't wait for the next round in the New Year!