I managed to get 3 challenges out of this card! I really like this one. I used another new WoJ stamp. I just love the santa stamps. I only just got a couple of them but I think I need a couple more!! I used some new MME papers, yes I finally broke and bought some papers!!
Firstly I used the sketch from
A Spoonful of Sugar
. Another great sketch. The second is for
Cupcake Craft Challenges
which was buttons and stitching. So I only used one button so I hope this is okay but I did go overboard with the faux stictching! The last one is for
Crafty Angels
which was buttons and bling. Again I hope it was okay that there is only one button but I used a lot of bling in the middle of the snowflakes.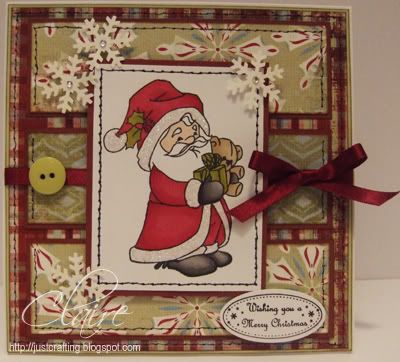 Sentiment - Daisy & Dandelion
Tools - Stampin Up Oval Punch and Snowflake Punch
Other - Ribbon, Gems and Button from stash
Thanks for looking!