The weekend is nearly over, back to work tomorrow. Glad I only have a three day week this week. I have a couple of days off at the end of the week and I can't wait. My holiday is still 7 weeks away and I am in so need of a break!
This weekend I have managed to do some stamping and made a few cards.
Here are a couple of cards I made last weekend:
The first is the birthday card I made my dad last week. Used a cute Magnolia stamp.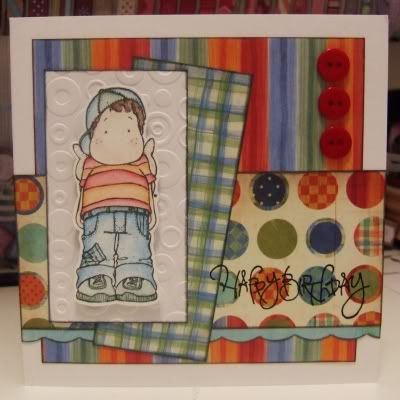 Supplies: Magnolia Stamp, K & Co Papers, Print Works Collection Sentiment Stamp, Cuttlebug Embossing Folder, Buttons
The second is a card based on a sketch by
Katharina
. I've used a Sarah Kay stamp. I love it! I really need to get my hands on a couple more of those stamps.
Supplies: Sarah Kay Stamp, My Minds Eye Papers, Cuttlebug Embossing Folder, Hobby Art Sentiment Stamp, Various Flowers and Brads